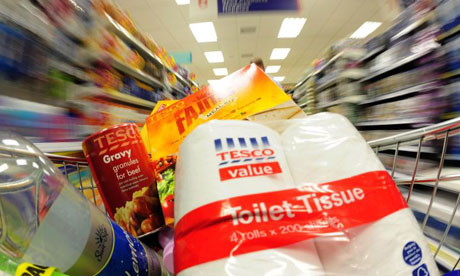 I rarely see journalism that stirs me to stand and raise my fist in accordance. This scathing piece from Alex Renton in the Guardian so eloquently describes the impacts corporate machines have on the lives of the people they claim to 'serve'. Nice one Alex. And thank you Rob Hopkins for the heads up.
---
The supermarket may have halved the price of much of our food, but at what cost? Photograph: Reuters
Sir Terry Leahy is retiring as head of Tesco after 14 years, "to spend more time with his private investments", according to yesterday's Guardian. He got the sort of press that'll make a nice decorative feature in his downstairs loo. He is one of the "10 people who have most helped the poor in recent decades," said the Tory blogger Tim Montgomerie in a Times piece, straplined .... "Every little he did helped us," said The Sun. "The outstanding businessman of the decade," said the Mail.
Do these people get out at all? They could visit one of the towns in Britain, such as Inverness, where three in every £4 is spent in a Tesco store; take a walk down the high streets reduced to a pathetic straggle of charity shops and tanning parlours. Then Leahy's fans might begin to see why another part of the population - among them farmers, small business people and independent shop owners - don't think Sir Terry helped at all.
Any food lover who thinks further than the rumble in their stomach should join in bidding good riddance to a rich man who's left far behind the Tesco shelf-stackers and floor cleaners from among whom - as the glowing eulogies all tell us - he rose so magnificently. I'd say Sir Terry has done more damage to the fabric of British life than any other businessman in modern times. The papers expect to see him helping out David Cameron and Nick Clegg very soon indeed. More...