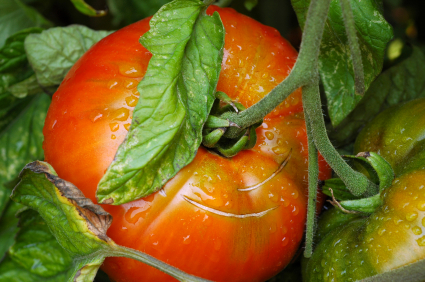 Source: Huffington Post
"I can't count the number of times someone has tasted one of my tomatoes or melons for the first time and said, 'This brings back memories of my childhood,'" says Amy Goldman, author of The Heirloom Tomato and two other books on heirlooms, one squash and the other melons. Their response is because the flavor is so refreshingly robust and vibrant.
The flavor of Amy's tomatoes is being compared to the gas-ripened, pinkish, mealy, and bland tasting industrial tomatoes we all know from iceberg lettuce salads and from what is available in supermarkets. The tomatoes people are referencing from their childhoods, if they are old enough, are freshly picked, fully red and ripe, juicy, and lusciously sweet yet slightly acidic.
This latter tomato is what I call the Slow Food tomato, because the Slow Food movement is about bringing the pleasure of food back into our lives in a way that also benefits the planet.
What better way to understand how Slow Food works than to look at the tomato? I've adapted here a section from the chapter on variety in True Food: 8 Simple Steps to a Healthier You, my new book with Melissa Breyer and Wendy Gordon. As you read, you'll begin to see how your choice of tomato makes a vital difference for the planet as well as your palette.
A Tale of Two Tomatoes
Tomato Seed One - F1 Hybrids
When you sit down to eat a salad with a tomato that you bought at a supermarket, chances are that the tomato was grown from an F1 hybrid seed, a seed that is not found in nature. More...