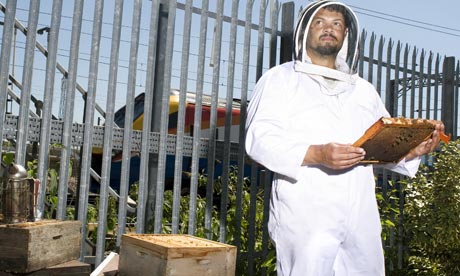 From quail in the East End to honey bees in King's Cross, Carole Cadwalladr goes in search of all the ingredients for a meal sourced as close as possible to her London home.
There are some places you just don't expect to find a pig, and although I haven't thought extensively before about all the very many different places where I wouldn't expect to find one, if I had, an executive housing estate in Romford would probably figure quite highly.
It's dark when I finally arrive at Tracy Mackness's farm – for reasons which are now obscure, I have decided to go urban pig hunting at 9.30 at night – having negotiated my way off a dual carriageway, on to the estate, through a gap between the houses and down a bumpy lane to a piece of land not much bigger than the plot for an average suburban house and garden. And there, with traffic roaring in the background, are dozens of massive pink and black saddlebacks snuffling quietly in the dark.